Healthy Postures During and After Pregnancy
There is no perfect posture. There are actually a variety of ways to sit and stand that can be very good for your body. The most important thing is to keep moving. Physical therapists like to say, "your next posture is your best posture." With that said, there are a couple of extremes that can cause some discomfort in standing. Especially when pregnant and having some extra weight to carry around and well as more laxity in your joints.
The photo here shows a "butt gripping" or "butt tucked" position. This position tilts the pelvis back as far as it will go and in doing so can temporarily feel very supportive for a baby bump. The problem is that over time, it renders the glutes (muscles of the butt) useless because when they are gripping like this they can't actually go through their full range and use the muscle fibers the way they are designed to.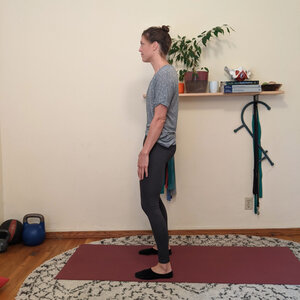 This next photo is the opposite. This shows the pelvis in a forward tilted position. The ribs flair upward and the curve of the low back is accentuated. This posture is also often adopted in pregnancy because the weight of the baby bump pulls the pelvis forward. The problem with this is that it puts the abs into a position where they won't recruit very well and the positioning can cause discomfort in the low back because the muscles there have to grip to counterbalance the weight.
My recommendation is to stand somewhere in the middle of both extremes. Try using your abs (stomach muscles) to tilt your pelvis all the way backwards and the conversely, let it tilt and fall forward. Rock back and forth a few times (these are known as pelvic tilts) and gradually shorten the distance your pelvis moves until it lands in a comfortable mid-range position.
ONCE YOU FIND A GOOD MID-RANGE POSTURE, THE NEXT STEP IS TO MAKE SURE YOU HAVE COMFORT IN THAT POSITION!
Notice this picture. Perhaps it looks like a pretty good posture, but the problem is that I'm tensing a lot of muscles to try to "stand up straight" and "keep my shoulders back." I'm very rigid trying to hold a "good" posture, which can quickly make the muscles tight and uncomfortable.
A true, good posture, should be one where you can relax. Stand with your weight evenly distributed through your feet⁠. Release excess tension ie: relax the shoulders, don't grip the butt and don't suck in your stomach. Sometimes it helps to "shake it out," roll the shoulders, "soften the knees" or shift your weight around. Try moving freely to find what's right for you.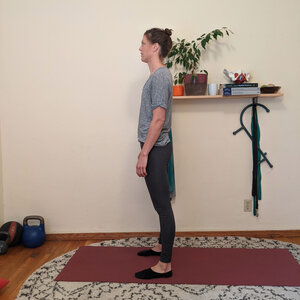 REMEMBER, YOUR NEXT POSTURE IS YOUR BEST POSTURE! SO, IF YOUR POSITION IS FEELING UNCOMFORTABLE, TRY SOMETHING DIFFERENT!
Oftentimes these gripping postures start in pregnancy but carry over into postpartum as habits. So whether you're pregnant or postpartum, check yourself! See if you're standing in either extreme. If you're unsure, try tilting the pelvis. Can you tilt it backwards further? Can you tilt it further forward? Once you find a comfortable position, try to relax into that position and release the muscles of the stomach and butt!
Stay connected with news and updates!
Sign up here to be the first to know about new programs, events, and special offers.
Don't worry, your information will not be shared.
We hate SPAM. We will never sell your information, for any reason.